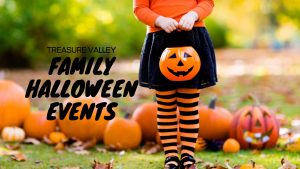 Southern Idaho has always been known as an area that exhibits the four seasons very well. Winters are cold and snowy, spring is beautiful, summer is hot, and the fall is full of fun. The entire Treasure Valley is long-rooted in harvest traditions. This means that holidays like Halloween are widely anticipated and celebrated.
There are many family-friendly events in this area of Idaho that are intriguing and enjoyable. Boise, Nampa, and Caldwell are all home to Halloween events that help families celebrate the spookiest time of the year. Here are a few to consider visiting:
The Old Idaho Penitentiary
On Old Penitentiary Road in Boise, a well-preserved prison is open to the public. This prison is rumored to be haunted. On October 26th, caretakers of this historic site are offering tours. Along with an educational tour, an elite "zombie dance" theater presentation will take place. The combination of lore and real life settings create an especially vibrant take on everything that Halloween embodies.
Trick-or-treating is encouraged, and there are special photography opportunities with actors recreating the lives of past legendary inmates. Frightened Felons is celebrating its 10th year, and the lineup is guaranteed to create memories for the entire family.
Trick-or-Treat at the Zoo
The Boise Zoo is again presenting its Boo at the Zoo celebration. This wonderful family event offers kids a chance to explore the world of nature, don their best costumes, and support the Boise Zoo. On October 27th, trainers and tour guides will be costumed in zoo-themed outfits. They provide candy for enthusiastic trick-or-treaters, and they create an environment for learning about animal conservation. Artists will be available for painting faces, and plenty of photo opportunities are provided.
The City of Nampa is hosting this event at Lloyd Square. Patrons of this event in the past have described it as "exploding with candy and fun." It takes place on Halloween Eve, and it features fun attractions like music and dance performances. This event is made safe through the efforts and monitoring of the Nampa Police.
Baseballoween Event
The Boise Hawks Baseball Club is offering a free Baseballoween Trunk-or-Treat festival at Boise's Memorial Stadium on October 26th. There is a very large parking ground for avid trunk-or-treaters. There will also be an impressive fireworks show, costume contests, and other events for all ages. This event is sensitive to Teal Pumpkin Project participants.
Kleiner Park Family Fun Halloween Trick and Trunk or Treat Bash
This free event in Meridian is a great opportunity for families to combine harvest and other Halloween traditions. It is geared toward all ages. There are pumpkin carving and costume contests, carnival-style concessions, food trucks, inflatables, rides, and more. This is also one of the most massive gatherings of trunk-or-treat enthusiasts in the state. Best of all, it's is a daylight event!